How to Check a Gold Bar Serial Number: Verify Legitimacy
Quickly test your gold bars
By
Jane Pardo | Updated June 23, 2023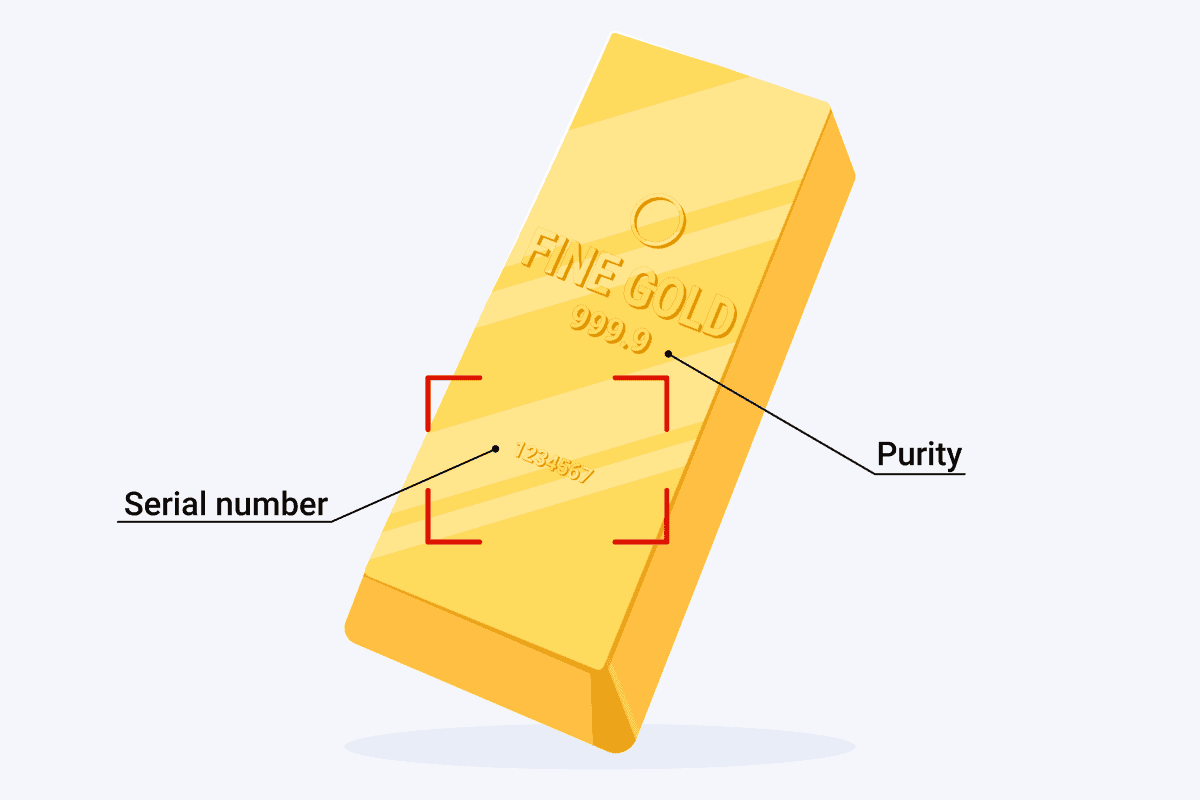 Checking the serial number is an authentication test every investor must remember when buying gold bars, also known as gold bullion or gold ingots.
With this method, you can verify that a gold bar is genuine and have confidence that you're purchasing an authentic product.
Find out why gold bars have serial numbers and learn how to check gold bar serial number with this complete guide.
Importance of serial numbers on gold bars
Serial numbers allow people to identify, verify, and track gold bars. They provide an extra level of security and help prevent counterfeiting.
You can trace the refinery that created a gold bar using the serial number imprinted on it.
Each ingot features the following mint markings:
Serial numbers
Weight
Purity
Manufacturer
You may also find the logo and other unique artistic designs of refineries stamped on gold bars as a means of identification.
These markings must not change the ingot's shape, weight, and size. Precious metals refineries follow strict manufacturing standards, perform accurate labeling, and maintain complete record-keeping.
How to check the serial number of a gold bar
Perform authenticity tests before investing your hard-earned money in gold bars to avoid counterfeits. It's best to shop in person to closely examine the bullion bars.
More importantly, buy gold bars that were minted at trusted minting facilities. 
Here are three easy steps to help you determine if a gold bar is real using its serial number.
Find the serial number on the gold bar. 

Generally, gold bars display valuable information on the front or back.  

Scan these inscriptions carefully. A gold bar's serial number consists of letters and numbers denoting the manufacturer. 

For example, you may find the unique serial number of gold bullion below the refiner's logo, bar weight, and metal purity. 

Contact the issuing authority.

After identifying the serial number, call the mint or refinery that created the gold bar. Provide the serial number to the issuing authority. They will tell you about the product's authenticity and other essential information. 

Some of the most trusted bullion manufacturers are PAMP Suisse, Valcambi, and the Royal Canadian Mint. These world-renowned gold refineries are reputable for producing high-purity gold bars. 

Verify the serial number against a database. 

Some mints and refineries maintain databases of gold bars with their serial numbers. Look up a gold bar's serial number in the refinery's database to ensure you are not buying a counterfeit. 

PAMP Suisse developed a modern technology that allows investors to authenticate gold bars using the Veriscan mobile app, which allows users to verify authenticity by scanning the surface of a gold bar. 
Credit Suisse gold bar serial number check process
Minted by the world-renowned Credit Suisse Group, the Credit Suisse gold bar is a widely popular gold bar much coveted for its stunning beauty, purity, and exceptional quality.
This gold bar features an easily recognizable design. It has a slim, rectangular shape with smoothened edges and minimal "flash."
Check the serial number of your Credit Suisse gold bar on the front side. You should find other essential information stamped on it, including its gold content and fineness.
Above these details, see if there's a rectangular outline with the words "Credit Suisse" carved on the bar. Below the words, you'll see the French phrase "Essayeur Fondeur," which means "melting tester."
Check for diagonal logo boxes featuring the words "Credit Suisse" on the back of the bar. Both the front and back should display capital letters with the same font.
Some fake Credit Suisse bars display incorrect markings and details, whereas others don't have serial numbers at all.
Regardless of weight denomination, all Credit Suisse gold bars contain 24-karat gold featuring .9999 fineness.
PAMP Suisse gold bar serial number check process
Produits Artistiques Métaux Précieux (PAMP) Suisse gold bars come in an extraordinary selection of sizes and designs, from astrological and mythological themes to historical and religious icons.
All PAMP gold bars feature individual serial numbers that also appear in their respective certificates or certiPAMP packaging.
Find the serial number on the reverse (back) side of your PAMP Suisse gold bar and its case.
The obverse (front) usually showcases the gold bar's design. For example, the highly sought-after Lady Fortuna gold bar depicts the Roman Goddess of luck and welfare. It's a classic artwork popular among gold investors and enthusiasts alike.
Some PAMP Suisse gold bars feature a simple repeating "Suisse" pattern on the back and the serial number on the front.
Above the serial number, you should see the weight and gold fineness of your gold bar. Serial numbers on counterfeits are usually smaller than the original gold bars.
Below the serial number is the phrase "Essayeur Fondeur."
On top of these details lies the elegant PAMP logo and the word "Suisse" in all caps.
Check every detail of your gold bar's design. For example, some counterfeit PAMP Suisse gold bars do not match the intricate design of the original bars.
Scan the QR code on the packaging using the PAMP Veriscan app on your phone as an added authenticity verification step.
Note: Some older PAMP bars in circulation may not have serial numbers, as putting numbers on bars was previously not mandatory decades ago.
Valcambi Suisse gold bar serial number check process
Valcambi Suisse boasts an impeccable reputation for crafting high-quality gold bars.
Valcambi Combibars feature an outstanding design where a standard gold bullion bar comes engraved with deep scoring, making individual square pieces easy to detach for exceptional liquidity.
If you have a standard minted bar, check the serial number on the front side. The back side should display "Valcambi Suisse" vertically in a large font.
Examine the Valcambi logo, weight, and gold fineness above the serial number. The assay mark "Essayeur Fondeur" should be above the number.
Each square in a Valcambi Combibar usually displays Valcambi's hallmarks, including the serial number.
Note: Old standard minted bars display only Valcambi's name on the front and back.
Do all gold bars have serial numbers?
The law mandates that gold bar manufacturers serialize and mark every gold bar for coding, security, and traceability purposes.
While large bars over 250 grams have unique inscriptions, you might not find official markings on smaller gold bars. Serial markings on smaller gold bars are typically identifiable on the packaging.
Once you purchase a gold bar, you can easily find its serial number on your invoice.
Should I have my gold bar appraised?
Have a professional appraise a gold bar if you cannot verify its authenticity through the issuing authority or a database.
An expert appraiser will examine the gold bar and its serial number to determine its value and authenticity. Experienced appraisers can reveal forged serial numbers and refinery marks.
Test the authenticity of precious metals to protect your investment
Knowing how to check gold bar serial number is one of several crucial steps to avoid gold bar scams and forgery. 
In addition to examining markings on a gold bar, you can also check the weight, measure the dimensions, test with a magnet, and ask for a certificate of authentication.
Reputable precious metals dealers and jewelers will allow you to carefully evaluate the authenticity of bullion bars.
Take time to learn how to identify authentic gold bars to get the value you expect. And remember to list all your serial numbers to easily monitor the value of your collection.