PCGS vs NGC: Who's the Best Coin Grading Company in 2023?
Learn about the two most prominent names in coin grading
By
Jane Pardo | Updated March 29, 2023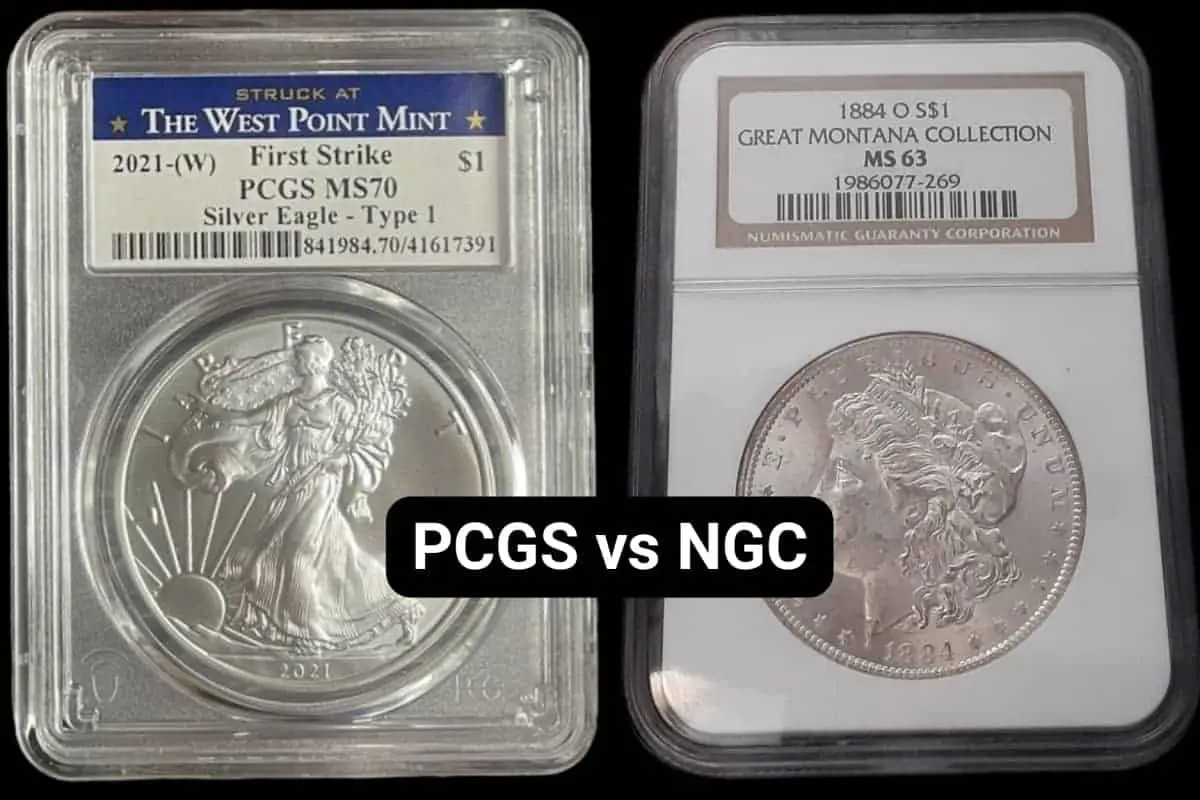 Professional Coin Grading Service (PCGS) and Numismatic Guaranty Company (NGC) are today's most reputable third-party grading services. Coin collectors trust these companies when it comes to authenticating, grading, preserving, and increasing the value of their coin collections.   
Read on to learn more about their history, reputation, grading standard, and pricing with this extensive NGC vs PCGS comparison. 
Grading history 
PCGS and NGC have a long history of providing consistent, dependable, and accurate grading and authentication services to coin collectors and dealers worldwide. 
PCGS 
Leading coin experts established PCGS in 1985 to protect rare coin collectors from inaccurate grading through a universal grading standard. PCGS has made notable improvements in the rare coin industry by creating standardized grading and reliable third-party certification. 
NGC
Founded in 1987 and based out of Sarasota Florida, NGC is now the official grading service of the American Numismatic Association (ANA), the Professional Numismatists Guild (PNG), and several other organizations. NGC claims to have the highest number of graded coins, successfully grading over 55 million coins throughout its history.
Market preference and reputation 
Overall, collectors perceive PCGS as the superior third-party grading service. Collectors and dealers generally pay more for PCGS-graded coins, which means these coins have a higher resale value. 
However, many collectors consider NGC the leading grading company for foreign coins. NGC is quite reputable for accurately grading ancient coins. 
Strictness level of grading standards 
PCGS and NGC use strict procedures and employ dozens of expert coin graders to ensure impartial results.  
PCGS: more stringent standards
PCGS has a reputation for maintaining stricter grading standards, resulting in higher resale value.
Their 70-point grading scale is considered one of the most consistent and accurate in the coin-grading industry.
PCGS is the industry leader in terms of grade accuracy and set registry. Most set registry collectors prefer PCGS. 
NGC: more lenient grading standards
NGC uses a similar 70-point scale. Some collectors find NGC to have more lenient standards than PCGS. For example, PCGS may grade a coin as MS-65, whereas NGC may grade the same coin as MS-66. 
While PCGS is better known for having a stricter grading scale, this general perception is not a definitive fact. Some collectors report that NGC provided a more accurate grading for certain coins than PCGS. 
Grading may vary significantly depending on many factors. Different graders may have distinct opinions on a coin's condition and preservation. The population reports for a specific coin can also affect its rarity and value.  
Evaluate and compare PCGS and NGC's population data to determine which service offers more stringent grading for a particular issue. You can also check eBay to get insights by comparing similar graded coins. 
PCGS and NGC grading guarantee and storage 
The PCGS cash-back grading guarantee 
PCGS offers a guarantee of grade and authenticity. This cash-back policy ensures that an assigned grade is accurate as long as the coin stays in its tamper-evident NumisCap holder. PCGS-authorized dealers will accept all PCGS-assigned coin grades. 
Sonically sealed capsules for lasting storage 
PCGS pioneered the use of tamper-evident and sonically sealed capsules to back up their grade and authenticity guarantee. 
Every PCGS coin capsule has a permanently sealed unique certification number that coin owners can use for reliable identification when buying and selling coins. The tamper-evident holder assures maximum protection for storing rare coins. 
The NGC guarantee
NGC-certified coins in NGC holders are guaranteed genuine and not overgraded. NGC authentic hand-signed labels are guaranteed to have a real autograph from the individual identified on the label. 
NGC may pay back the grading fees and shipping expenses or offer other solutions for NGC-certified coins that are determined not genuine or overgraded. 
Advanced protective holder fused with a hologram 
NGC claims to have spent more than $1 million to design the best coin holders for lasting preservation and protection. Every NGC holder has a unique hologram fused directly to its back. 
The hologram has numerous security features, making NGC holders hard to counterfeit or tamper.
Finely tuned machines seal these holders using ultrasonic welding to prevent tampering.
Comparison chart of PCGS vs. NGC pricing 2023 
NGC and PCGS have nearly similar pricing for standard grading services. Fees vary depending on the type and value of the coin and the requested service level. 
Check out the following services and fees of NGC vs PCGS in 2023: 
| Service type  | PCGS maximum coin value | NGC maximum coin value | PCGS price | NGC price |
| --- | --- | --- | --- | --- |
| Economy (not gold, non-hammered) | $300 | $300 | $23 | $23 |
| Regular | $2,500 | $3,000 | $40 | $40 |
| Express | $10,000 | $10,000 | $70 | $80 |
| Walkthrough | $100,000 | $25,000 | $150 | $175 |
| Unlimited walkthrough | | Unlimited | | $350 (plus 1% of fair market value) |
| Modern/modern value (1965 to date) | $300/$2,500 | $3,000 | $17/$30 | $19 |
| Mint Errors | $10,000 | Tier | $70 | Tier + $18 |
NGC and PCGS charge extra for additional services, such as high-resolution imaging for coins. 
Both companies offer varying subscription types: 
PCGS collectors club membership levels 
All PCGS membership types offer coin and banknote submission privileges, quarterly grading specials, 10% off PCGS store supplies, and more. 
Silver ($69) – basic level with no grading vouchers
Gold ($149) – standard level with four grading vouchers
Platinum ($249) – premium level with eight grading vouchers 
NGC membership levels 
All NGC membership types offer direct submission privileges and full access to online resources. 
Associate ($25) – 10% off at the CCG Store and 10% off select add-on services 
Premium ($149) – All associate benefits plus a $150 NGC credit
Elite ($299) – All premium benefits plus bulk submission rates and labels and 10% off NGC grading, PMG grading, and NCS conservation 
General turnaround times
Here are the estimated turnaround times between NGC vs PCGS: 
| Service type | PCGS U.S.  | PCGS world | NGC U.S. | NGC world |
| --- | --- | --- | --- | --- |
| Economy | 60 days | 65 days | 23 days  | 28 days  |
| Regular | 50 days | 60 days | 15 days  | 45 days |
| Express | 15 days | 20 days | 7 days  | 11 days  |
| Modern | 20 days  | 70 days | 36 days  | 19 days  |
Overall, NGC offers faster turnaround times, although not guaranteed. 
Keep in mind that turnaround times of grading companies fluctuate depending on many factors, including the submission volumes, service level, and the value and type of submitted coins. Peak seasons may result in longer wait times for both companies. 
FAQs about choosing the best grading company
Is coin grading by NGC or PCGS worth the cost? 
Coin grading by NGC or PCGS is worth the cost if your coin is valuable enough to outweigh the expenses involved with professional grading. Consider sending your coin to these third-party grading services if you have rare coins, low-mintage key date coins, or historically significant coins. 
Should I choose only one company to grade all of my coins?
You can choose one company to grade your coins for consistency and organization convenience. It would also make sense to sign up for a premium subscription to get more discounts and privileges. However, many collectors use the services of more than one grading company, depending on the particular coin issue. 
Why should I have my coins graded and slabbed? 
Obtaining authenticity certifications from PCGS and NGC means a higher numismatic value for your coins. They will carry the reputation of the grading company and become guaranteed products. Additionally, having your coins slabbed in hard plastic ensures lasting protection.  
Final thoughts
If you want a higher resale value for your coins, PCGS is an excellent option. But if you have a collection of world and ancient coins, some collectors report that NGC has a better grading track record. 
Nonetheless, both PCGS and NGC are highly reputable professional grading brands. Your final choice will depend on your personal preferences and priorities.