Why Engelhard Silver Bars are Highly Valued Today
The factors that drive these bar's worth and evaluating their investment merits and drawbacks.
By
Jane Pardo | Updated June 23, 2023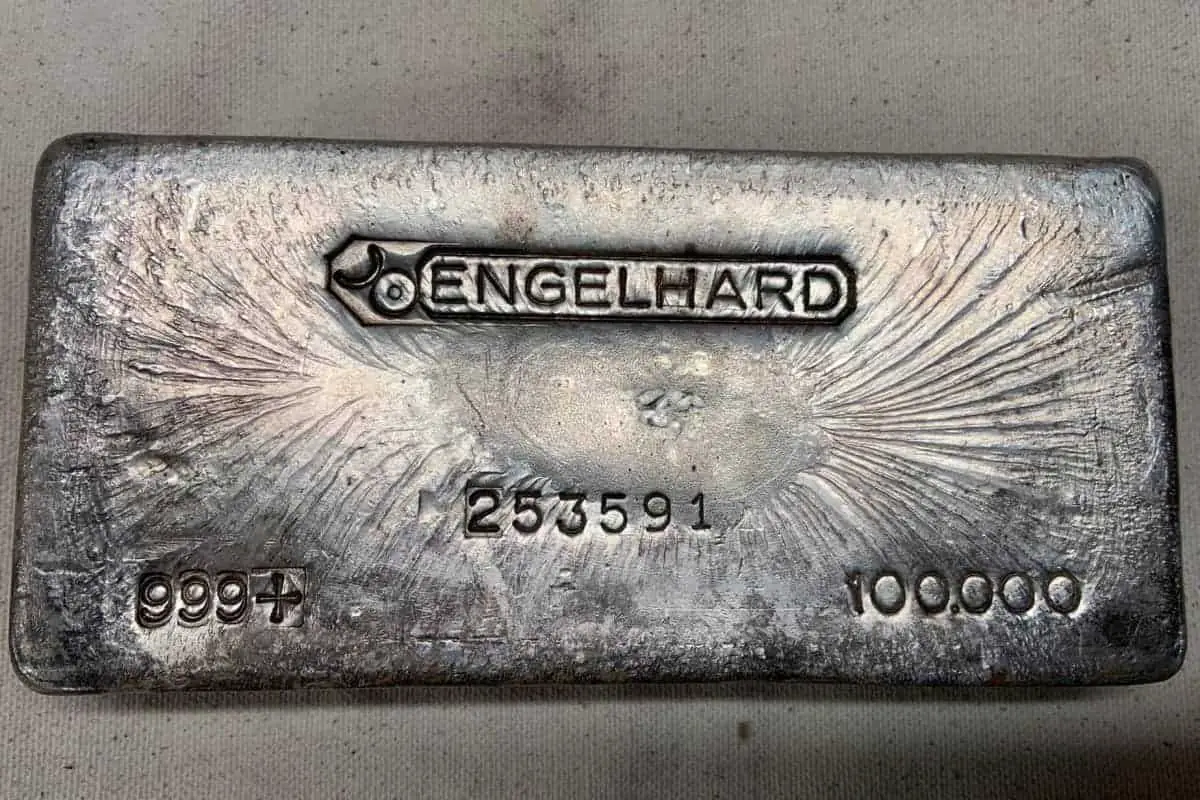 Founded in 1902, Engelhard Corporation was the biggest multi-national precious metals corporation in the world during its era.
Rare, vintage Engelhard ingots and bars are much sought after today among silver enthusiasts and savvy investors.
Find out why Engelhard silver bars have higher premiums than other brands and the benefits of investing in these bars. I'll also point out their drawbacks so you can decide if they are worthy additions to your numismatic collection or investment portfolio.
Why are Engelhard silver bars worth more?
Engelhard silver bullion bars are valued more because of their rarity, excellent collectability, and great potential for high returns. Additionally, Engelhard is a well-trusted name worldwide in vintage precious metals investing.
Rarity and collectability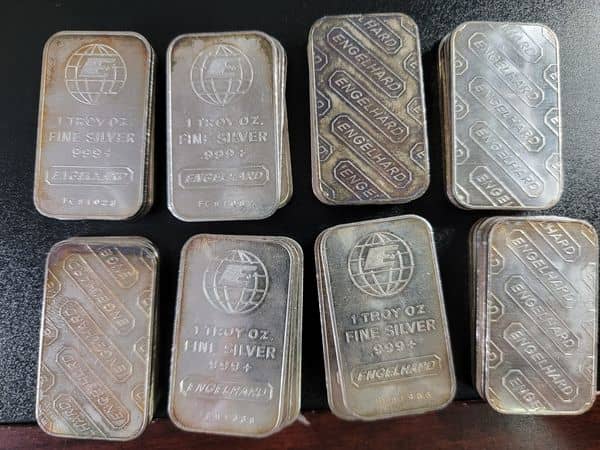 Engelhard Corporation stopped producing silver bars in the late 1980s when demand for silver bullion plummeted.
Scarcity drives up the value of Engelhard bars over time. Because Engelhard products are no longer in production, they are finite resources valued at higher prices.
Engelhard bars are coveted for their historical significance and excellent potential for high returns. The fact that some Engelhard bars were not made for collectibility purposes makes them even more valuable in the eyes of collectors.
High returns
Many collectors and investors are willing to pay more because they'll get the premium back and earn a nice profit.
Limited supply and high demand are the perfect tandem for value appreciation. Experts estimate that the total ingots and bars minted throughout Engelhard's 28-year production is equivalent to one to two months' production of the US Mint's American Silver Eagle Bullion coin. That means the rarest Engelhard bars have exorbitant premiums.
A recognized brand and remarkable legacy
Engelhard undoubtedly built a solid reputation and earned worldwide respect for making top-quality precious metals products, making their silver bars a popular investment choice even today.
Brand recognition: Every silver stacker knows Engelhard silver bars. Engelhard is a trusted, well-known name in vintage bullion bars, making their products highly desirable in the precious metals market.
Outstanding purity and quality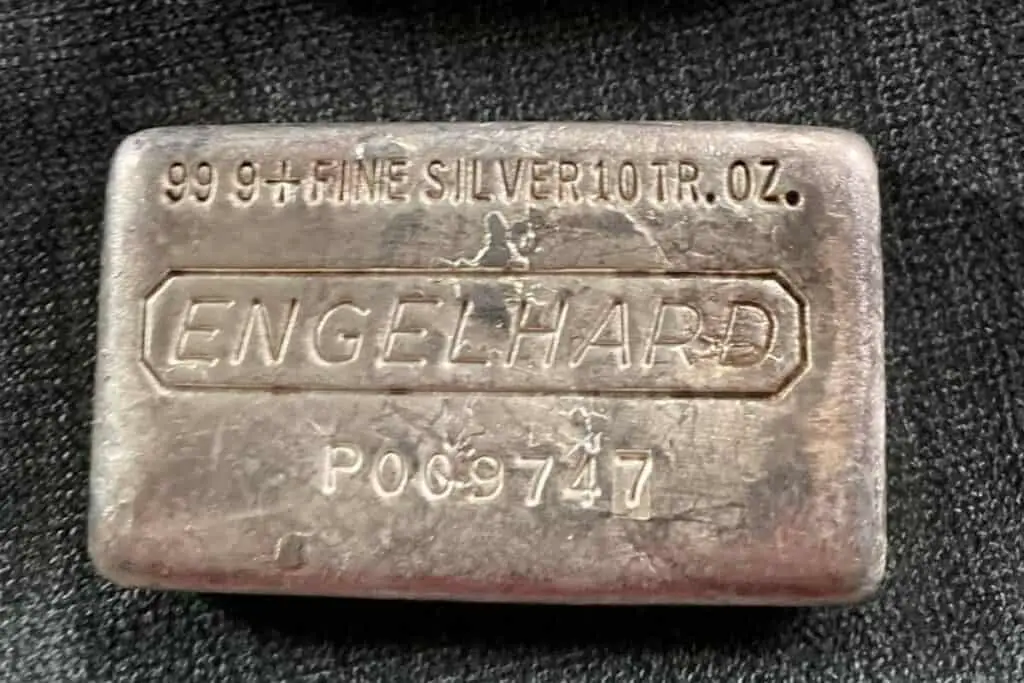 Engelhard bars boast superior quality thanks to advanced refining processes and stringent manufacturing standards.
High purity levels: Engelhard silver bars have excellent fineness, ranging from 99.9% to 99.99%. A variety of weight choices are available, including 3 oz, 5 oz, 50 oz, and 100 oz bars.
Serialized bars: Engelhard bars mostly have unique serial numbers, allowing collectors to evaluate their rarity and value. Some collectors love fancy serial numbers, like multiple same digits, adding value to silver bars.
IRA approved: Engelhard silver bars that are .999 fine qualify for self-directed individual retirement accounts.
Stability
The collectibility of Engelhard silver bars separates them from the spot price of silver.
Engelhard bars still maintain their premium value even if the price of silver drops.
Unique, visually pleasing designs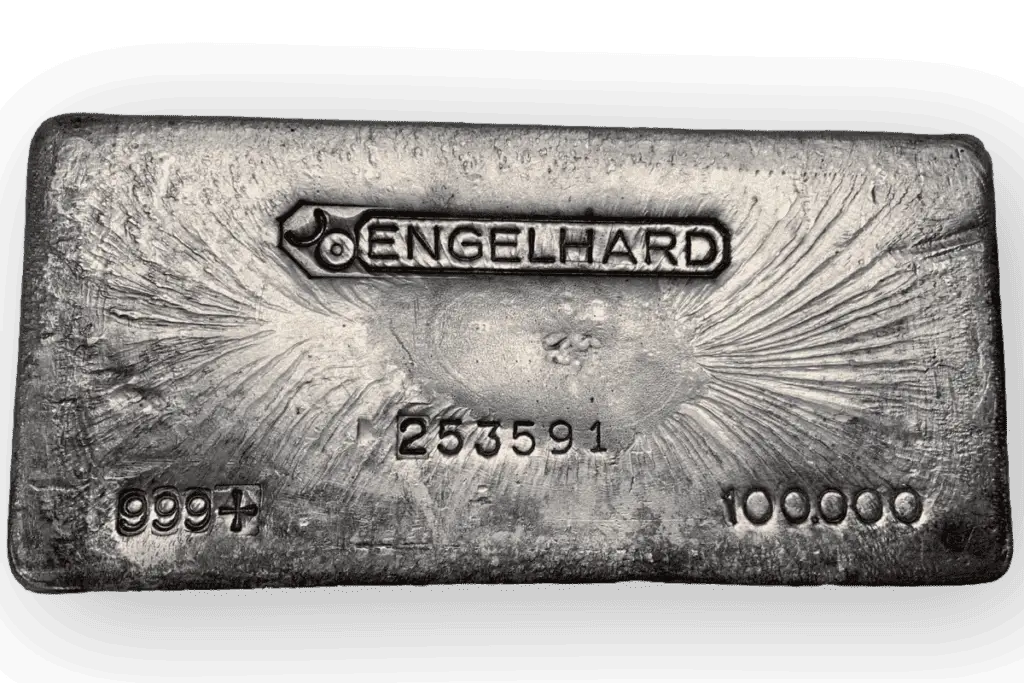 Minted Engelhard bars have a smooth, stunning finish, whereas poured silver bars showcase distinct personalities, like beautiful cooling lines, that greatly appeal to collectors.
Aesthetic appeal: Vintage Engelhard silver bars display their rich history with faded tones and signs of wear, adding to their collectibility value.
Drawbacks of investing in Engelhard silver bars
You should also know the possible drawbacks of these antique silver bar opportunities.
More expensive pricing: Rare old Engelhard silver bars have much higher premiums over the spot price. Be sure to do your due diligence when buying a vintage Engelhard silver bar to know its exact worth.
Risk of getting counterfeits: Engelhard bars have been so popular that con artists counterfeit these bars.
Final thoughts
While rare Engelhard silver bars have high premiums, you'll still find more affordable varieties if you're on a tight budget. Be sure to choose a trustworthy bullion dealer to ensure authenticity and quality.
Hopefully, my article helped you weigh the pros and cons of investing in Engelhard silver bars and make a sound financial decision.
Next, read our quick guide on where to buy silver bars wholesale if you want to know the most reputable precious metals retailers for silver investment.