8 Best Silver Coins to Buy for Survival Purposes (Be Ready)
Learn what makes a good survival coin and our top choices.
By
Jane Pardo | Updated May 9, 2023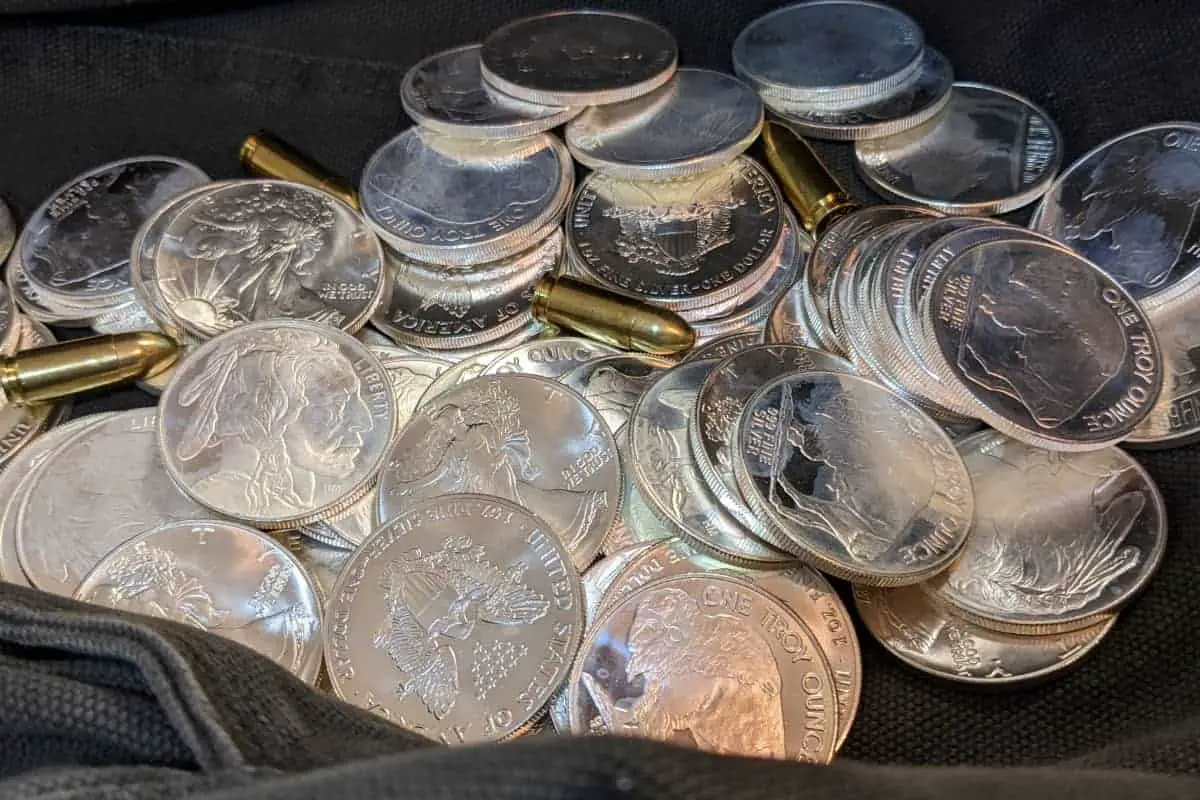 Silver coins are an excellent investment for your survival strategy.
These tangible assets serve as a hedge against inflation. More importantly, they hold their value through catastrophic events like a financial crisis, an economic collapse, war, or a natural disaster.  
With a stockpile of silver coins, you get an extra layer of assurance and a sense of financial security.
But which silver coins should you add to your emergency reserves? Keep reading to discover the top silver coins to buy for survival purposes.
Characteristics of the best silver coins to use for survival
The best silver coins to buy for your survival plan are easily recognizable high-purity coins, particularly pre-1965 U.S. 90% silver coins. These include 90% silver dimes, silver quarters, and silver half dollars. Their small denominations are great for bartering. 1-oz silver rounds and American Silver Eagle coins are also excellent additions to your silver stash.
We recommend buying silver coins with the following characteristics to ensure they are acceptable in emergency situations:
Stamped in English: People who cannot recognize less known foreign coins will likely not accept them.
Available in convenient, easily recognizable sizes: For example, choose ½-ounce or ¼-ounce silver coins instead of those with complex, decimal ounces.
Available in easily recognizable designs: This eases bartering situations where silver serves as a currency.
8 best silver coins for your survival preparedness plan
1. 90% U.S. Silver Dimes
90% silver dimes, quarters, and half dollars belong to the well-known 90% junk silver category. These junk silver coins, also called U.S. 90% silver coins, are old United States currency coins minted before 1965. Most of these pre-1965 minted coins have a 90% silver content.
They are called "junk" due to the lack of collectible or numismatic value. However, they are the best option in this list. They are relatively inexpensive, available in convenient sizes for everyday carry or pocket pieces, and easily recognizable, making them the ultimate barter coin.
90% silver dimes roughly contain .0715 troy ounces of silver bullion. Silver dimes with a $5 face value have 3.575 troy ounces of silver.
Roosevelt Dimes (1946 to 1964) – Roosevelt Silver Dimes boast the highest mintage numbers among all silver dimes. Around 2.2 billion Roosevelt Silver Dimes were minted in 1964. They are easily the most recognizable silver dimes, and their design can still be seen on dimes today.
Barber Dimes (1892 to 1916) – The Barber design is quite iconic, portraying Lady Liberty in a Phrygian cap and exhibiting the motto "In God We Trust" above her. U.S. Mint chief graver Charles Barber designed the Barber Dimes, Quarters, and Half Dollars. The Barber Dimes were in circulation for around 25 years. The highest annual mintage was only 34 million coins, making these dimes desirable for survivalists and coin enthusiasts.
Mercury Dimes (1916 to 1945) – The Mercury Dime features an uncanny resemblance to Lady Liberty with its portrayal of the Roman god Mercury, hence the name.
2. 90% Silver Quarters
90% silver quarters generally contain .17875 ounces of pure silver. Silver quarters with a $10 face value roughly have 7.15 troy ounces of silver.
Barber Quarters (1892 to 1916) – More than 264 million Barber Quarters were minted overall.
Standing Liberty Quarters (1916 to 1930) – These quarters had a total mintage of 226 million.
Washington Quarters – (1932 to 1964) – A whopping total of roughly 3.8 billion Silver Washington Quarters were minted overall. These silver quarters depict a left-side portrait of President George Washington on the obverse.
3. 90% Silver Half Dollars
Silver half dollars contain around .3575 troy ounces of actual silver. The $10 face rolls have roughly 7.15 troy ounces of silver.
Barber Half Dollars (1892 to 1915) – The U.S. Mint produced these silver half dollars a year shorter than their silver dime and quarter counterparts, which were in circulation until 1916.
Walking Liberty Half Dollars (1916 to 1947) – More than 485 million Walking Liberty Half Dollars were produced overall. The Walking Liberty Half Dollar design inspired the presently circulating U.S. Silver Eagle Coin design.
Franklin Half Dollars (1948 to 1963) – Around 465 million Franklin Halves were produced for 16 years. These silver halves portray Benjamin Franklin's profile on the obverse.
90% Kennedy Half Dollars (1964) – Kennedy halves had a total mintage of around 435 million. However, only those produced in 1964 were 90% pure silver. Designed as a tribute to President John F. Kennedy, the Kennedy halves depict a left-side profile of the president on the obverse.
4. 1-oz. Silver Rounds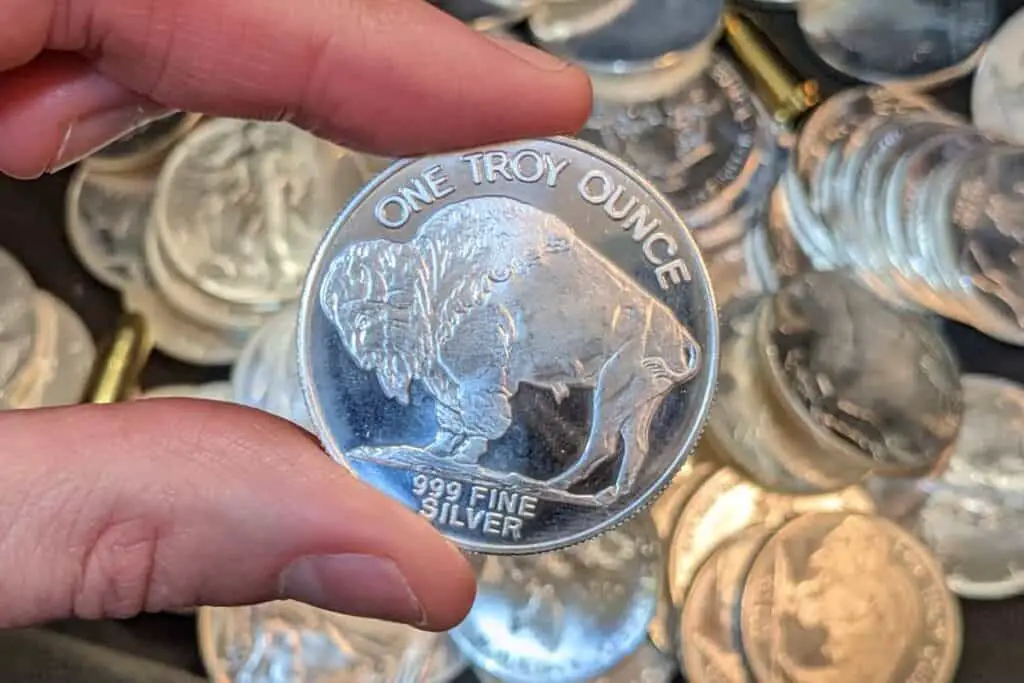 One-ounce silver rounds are excellent choices for bullion investors who want a diverse silver portfolio for survival scenarios. Containing .999 fine silver bullion, silver rounds are generally 99.9% pure.
Silver Rounds vs. Silver Coins
Legal tender status is what makes silver rounds different from silver coins. Rounds are not legal tender, and they have no face value.
Silver rounds typically only display their weight and purity. Private refineries and silver mints mostly manufacture silver rounds.
In contrast, silver coins are legal tender. They possess a face value or denomination, and therefore they are money. Only a national government can issue silver coins. Additionally, these coins carry a date and denomination.
Silver rounds are cheaper than silver bullion coins with the same weight. That means your investment dollar gives you more silver when buying silver rounds than silver coins.
Silver rounds are easily obtainable. Silver dealers usually have readily available silver rounds in their in-stock inventory.
Silver rounds are available in various troy-ounce options.
Modern silver round designs feature replicas of classic coin designs. They are also available in religious, holiday, military, and historical designs.
5. 1-oz. American Silver Eagle Coins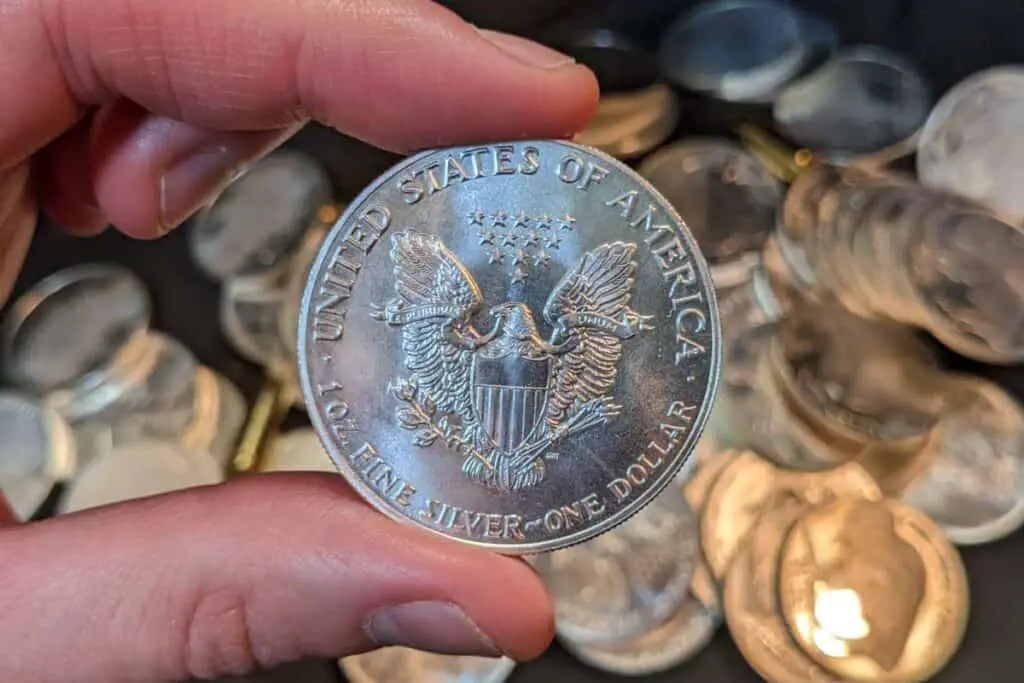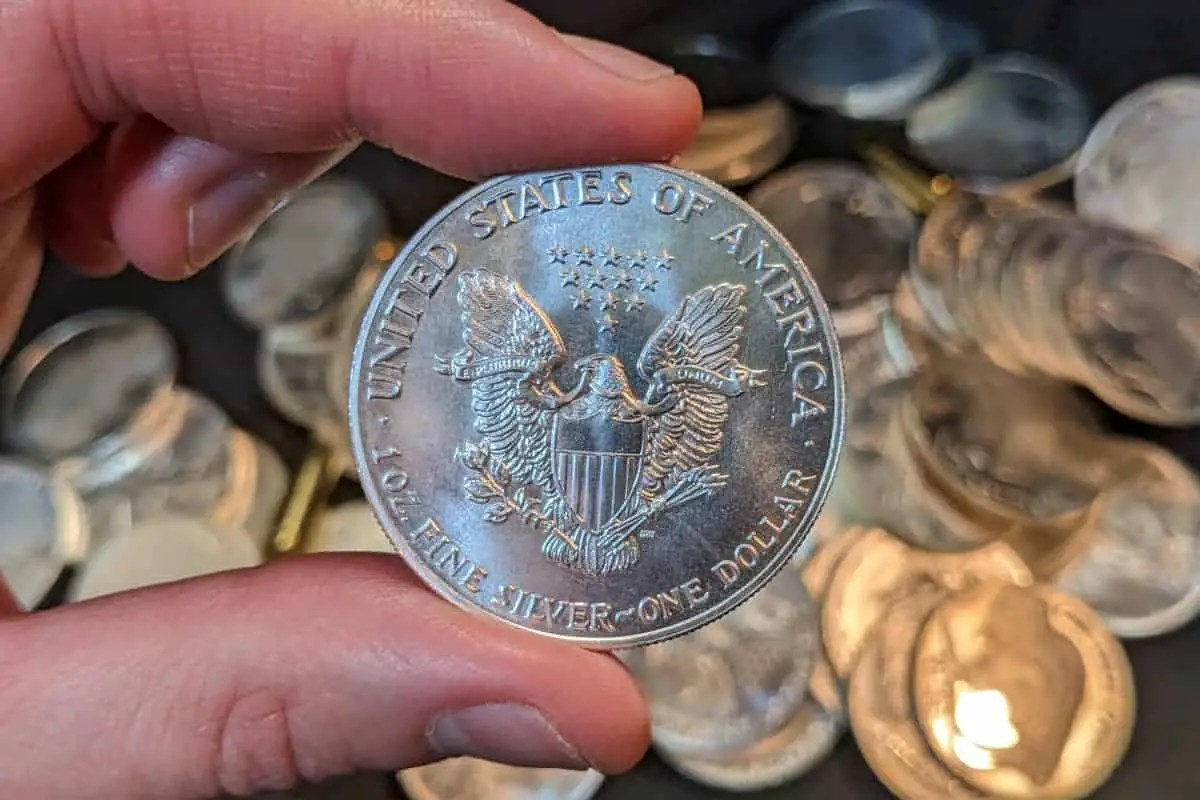 1-oz. American Silver Eagle Coins, produced solely by the U.S. Mint, are the official silver bullion coin of the U.S. The original design was created by Adolph A. Weinman.
They are considered the most recognizable silver coins and the easiest to liquidate, making them a great addition to your survivalist stash. They are incredibly popular due to their high silver content, high purity, value as U.S. legal tender, and striking design.
The modern, refreshed version of the American Silver Eagle Coin boasts a stunning design depicting an eagle carrying an oak branch and about to land. The previous version showed a heraldic eagle with a shield, symbolizing strength and endurance.
Each American Silver Eagle Coin has at least 1 troy ounce of 99.9% silver.
The U.S. government guarantees the weight and purity of American Silver Eagles.
These coins have been issued from 1986 until today. The U.S. Mint produced over 40 million American Silver Eagles every year in recent years.
Pro Tip: When buying American Silver Eagles for survival purposes, choose newly minted coins closer to the spot price. Older coins typically have higher premiums due to their scarcity and age.
6. Silver Canadian Maple Leaf Coins
Silver Canadian Maple Leafs are widely recognizable worldwide. They are good for diversifying your survivalist silver portfolio.
The Silver Canadian Maple Leaf is a fine silver bullion coin with a guaranteed 99.99% pure silver content, all mined in Canada.
It depicts a maple leaf on the reverse and portrays Queen Elizabeth II on the obverse.
First produced in 1988, the Silver Canadian Maple Leaf serves as an official silver Canadian coin. That means it is legal tender and has a face value (5 Canadian dollars).
However, Silver Canadian Maple Leafs have higher premiums, so they should be low on your list when considering silver coins for survival. Junk silver coins and silver rounds are still a much better deal.
7. U.S. Silver Peace Dollar
First issued after the end of the first World War in 1921, the U.S. Silver Peace Dollar is iconic for its universal representation of the nation's desire for peace.
U.S. Silver Peace Dollars are well-known across the globe, so they are easy to recognize in an economic collapse.
The U.S. Silver Peace Dollar was minted between 1921 to 1928 and from 1934 to 1935.
The U.S. Mint issued a celebratory Peace Dollar in 2021 to commemorate the 100th anniversary of these historical coins.
The latest version contains .999 fine silver, whereas the older Peace Dollars have .900 fine silver.
Like the Silver Canadian Maple Leaf, U.S. Silver Peace Dollars come in higher premiums due to their increasing demand. Choose common date coins with relatively lower prices. You can get slightly worn coins as long as all exterior details are recognizable.
8. Mexican Silver Libertad Bullion Coins
The Mexican Silver Libertad is Mexico's signature silver bullion coin. First produced in 1982, this coin comes in numerous sizes and denominations. The 1 oz. version continues to have the highest demand.
Mexican Silver Libertad Coins are relatively more affordable than other bullion silver coins.
These coins feature a .999 fine silver content.
They are widely circulated and recognizable worldwide, making them usable during a currency collapse.
Mexican Silver Libertad Coins cannot be used as legal tender as they lack a face value. Their value as silver bullion coins depends on their silver content.
FAQs about buying silver coins for survival
Which silver coins are not ideal for survival purposes?
Less recognizable arcane foreign coins and numismatic or collectible coins are not ideal for survival purposes. It is best to buy well-known bullion coins with high metal contents.
What makes silver coins better than gold coins?
Silver coins are better than gold coins as they are available in readily divisible smaller denominations. They are perfect for purchasing small essentials. Gold coins provide significantly higher value, making them ideal for large transactions in a survival situation.
What should I remember when investing in silver coins?
Remember to monitor premiums when investing in silver coins. Compare offers from multiple coin dealers to ensure you're not paying unreasonably high premiums.
Where should I keep my silver coins?
Keep your silver coins and other precious metals investment in a built-in, fireproof vault or safety deposit box for maximum security. Some survivalists add a handful of coins to an emergency bag containing a first aid kit, bottled water, food, and other essentials.