Collecting Silver Coins (Coin, Bar, & Bullion Buying Guide)
Understanding the different types of collectible silver.
By
Jane Pardo | Updated June 23, 2023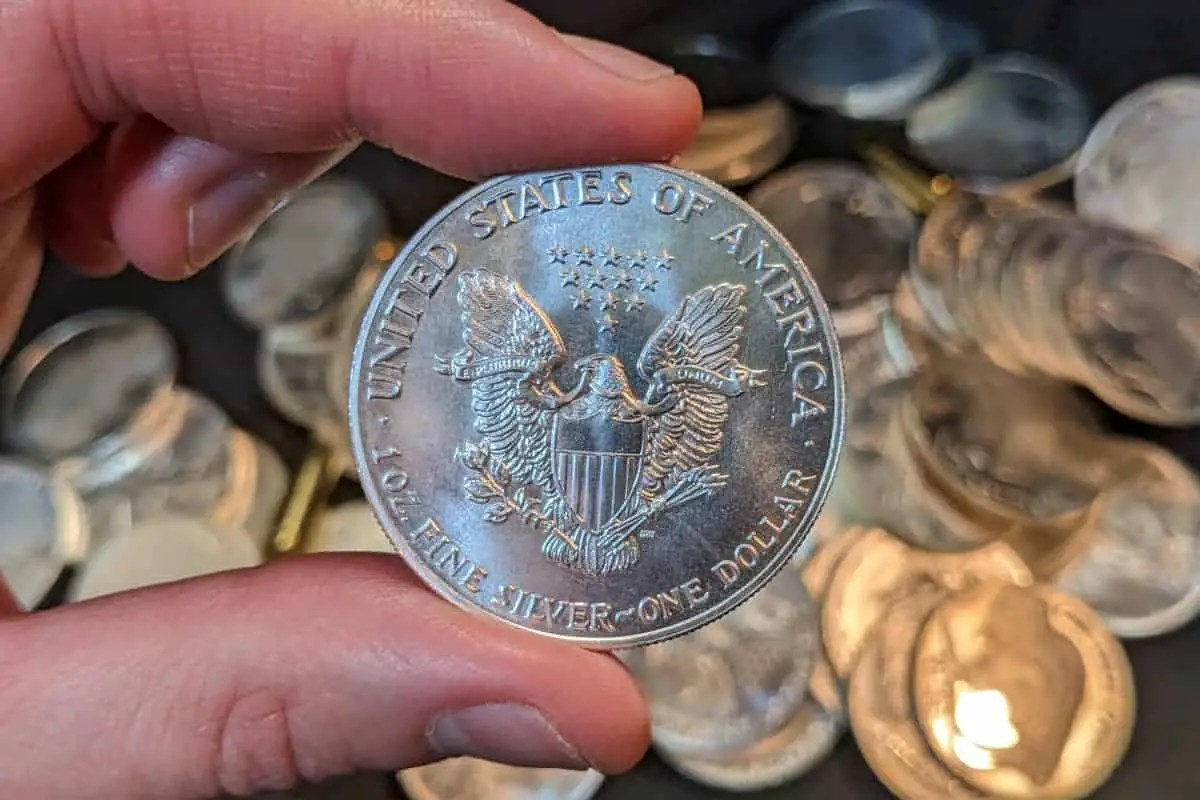 Investing in physical silver means owning silver in its tangible form. It's an excellent investment strategy if you want direct control over your precious metal assets.
Beyond building wealth and hedging against inflation, you can use silver for survival purposes as a bartering tool in times of economic instability or unexpected situations. And if you're a silver hobbyist, continually expanding your collection can give you a sense of satisfaction.
Continue reading to learn all about collecting silver coins with our extensive guide. We'll explore different types of physical silver and the best ways to buy silver bullion to guide you in your precious metals investment journey.
Types of physical silver
Silver comes in various purities, shapes, and sizes. When collecting silver, you must decide whether to buy silver coins, rounds, or bars, each of which offers certain advantages.
1. Silver bullion coins
Many investors consider silver coins as the best way to invest in silver.
Silver bullion coins are struck by a government mint, such as the United States Mint (US Mint), and they generally have a legal tender face value (except for the South African Krugerrands).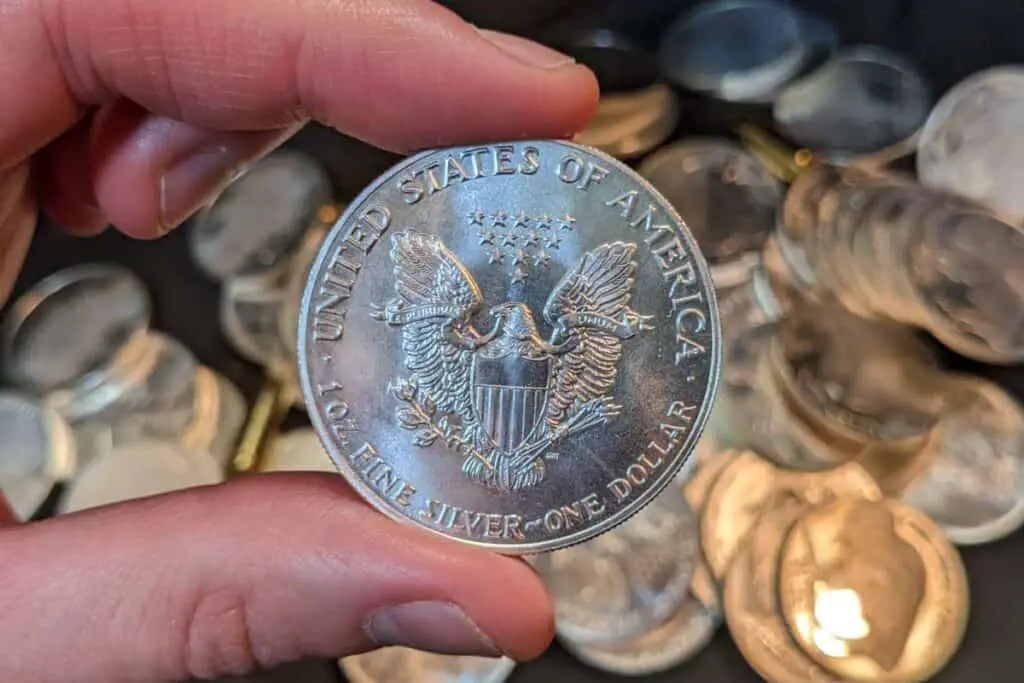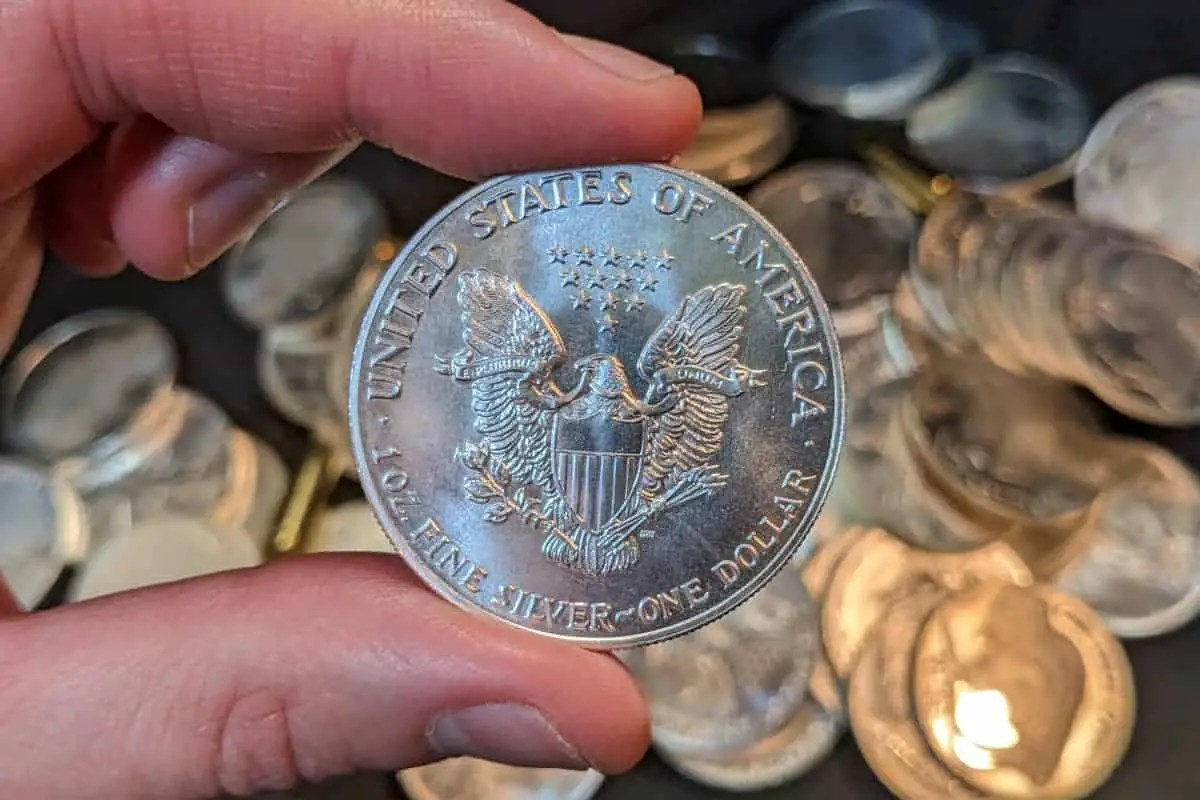 Bullion coins have a defined face value that mostly remains consistent. You can see a silver coin's face value on the front or back.
For example, a 1-ounce American Silver Eagle has a $1 USD face value, and a 1-ounce Canadian Silver Maple Leaf has a $5 CAD face value.
However, many silver coins are worth closer to their intrinsic metal values. For example, 99.9% pure American Silver Eagles have a melt value equal to 1 silver troy ounce. Accordingly, if silver trades for $25 an ounce today, that would be the coin's melt value.
Ideal for: Investors who want high liquidity and guaranteed quality and purity from an official government-operated mint.
2. Silver numismatic coins
Numismatic coins are rare and collectible coins. The rarer and the better the condition, the higher the prices.
Silver numismatic coins can sell much higher than typical silver bullion coins despite having the same silver content, depending on their collectible value.
Examples of popular numismatic coins:
Peace Silver Dollars
Swiss 20 Francs
British Sovereigns
Pre-1933 $20 and $10 Eagle coins
Ideal for: Collectors, coin enthusiasts, and well-informed individuals with extensive knowledge of the rare coin market.
3. Junk silver coins (90% and 40% silver coins)
Also called 90% silver and old US silver, junk silver coins are pre-1965 circulated coins with no numismatic or collectible value. They are highly recognizable, easy to sell, and rarely counterfeited.
Pros
Ideal for: Practical investors who want to add cheaper silver to their precious metals portfolio and survivalists who want to prepare for the unexpected.
4. Silver rounds
Unlike silver coins, silver rounds are struck by private mints like the SilverTowne Mint and the Sunshine Minting Inc. They don't have a face value, so you cannot use them as a valid currency.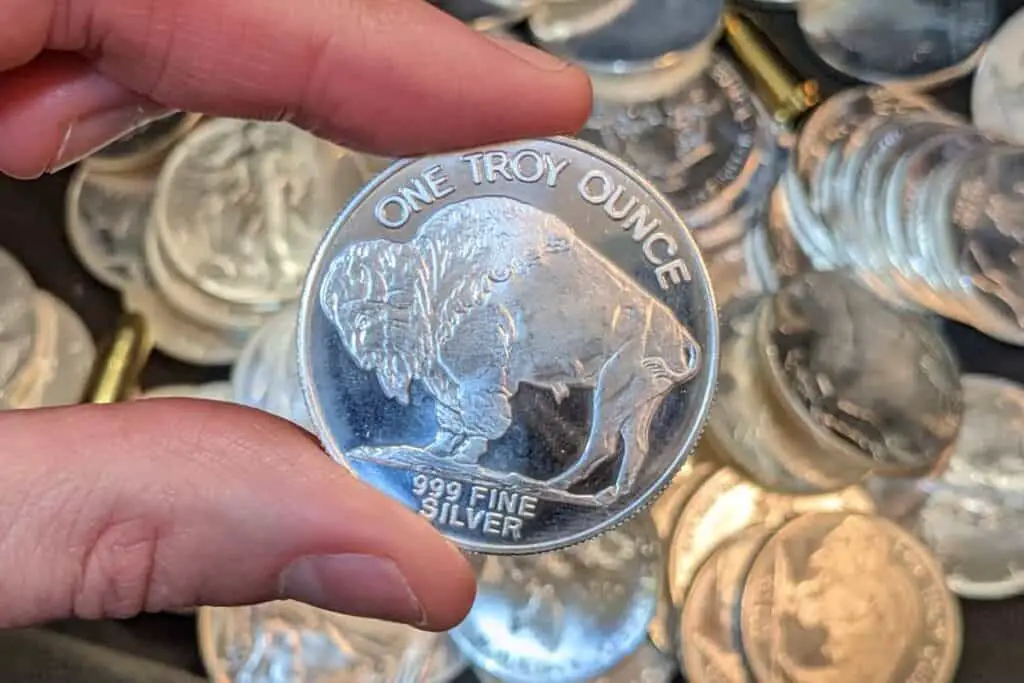 Mints often create silver rounds to commemorate events, people, and places. For example, you'll find silver coins minted to commemorate the American Liberty Bell, Walt Disney, and the Olympics.
Ideal for: Silver bullion buyers looking to diversify their portfolios and silver caches with cheap silver.
5. Silver bars
Private refiners and mints usually strike silver bars, although there are sovereign mints like the Perth Mint and the Royal Canadian Mint that strike bullion bars.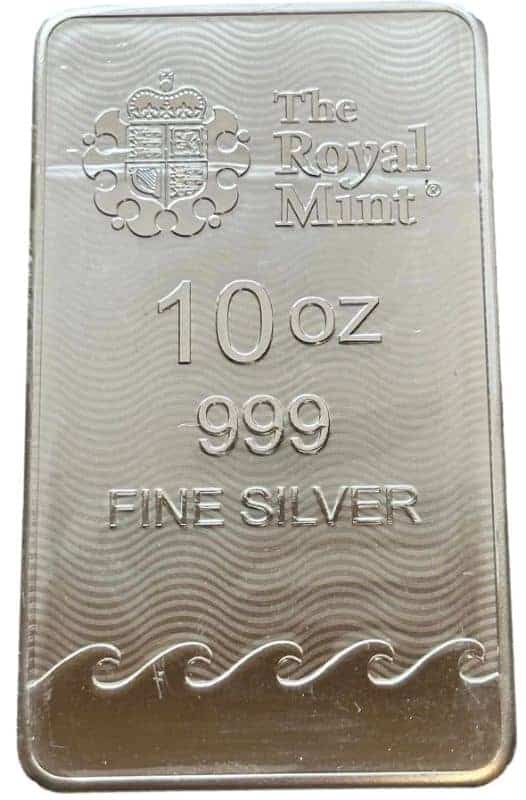 They are much more refined than silver ingots, which contain non-specific amounts of silver shaped into bar forms for easy storage and transportation.
Most silver bars display an assay stamp, fineness number, manufacturing year, and serial number on the surface.
Ideal for: High-volume traders and precious metals investors who like to buy in bulk.
Coin grading: PCGS vs NGC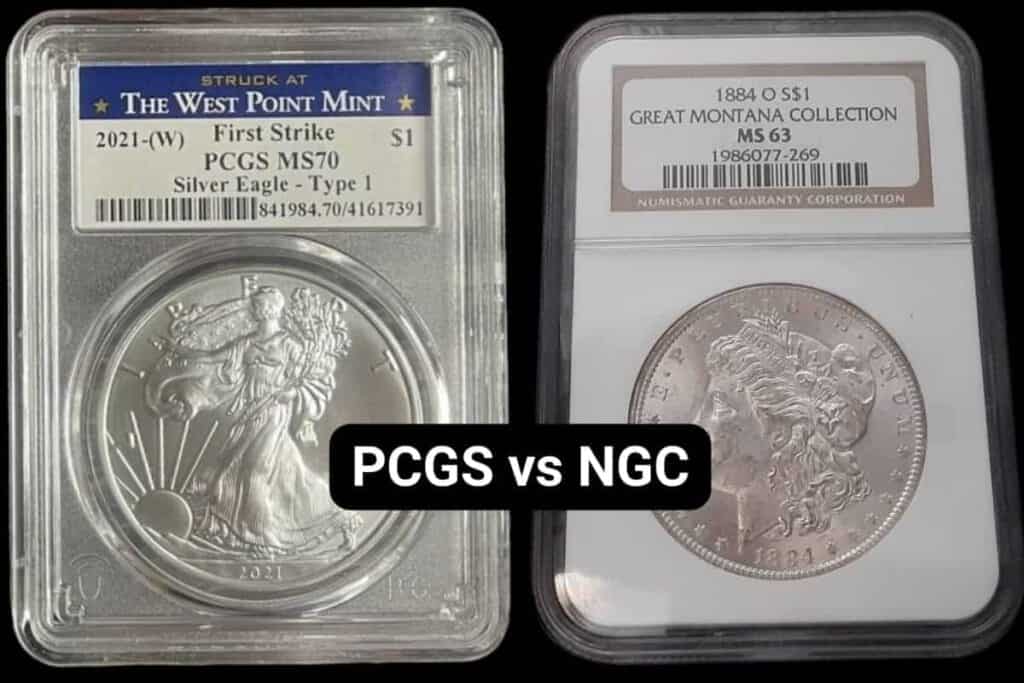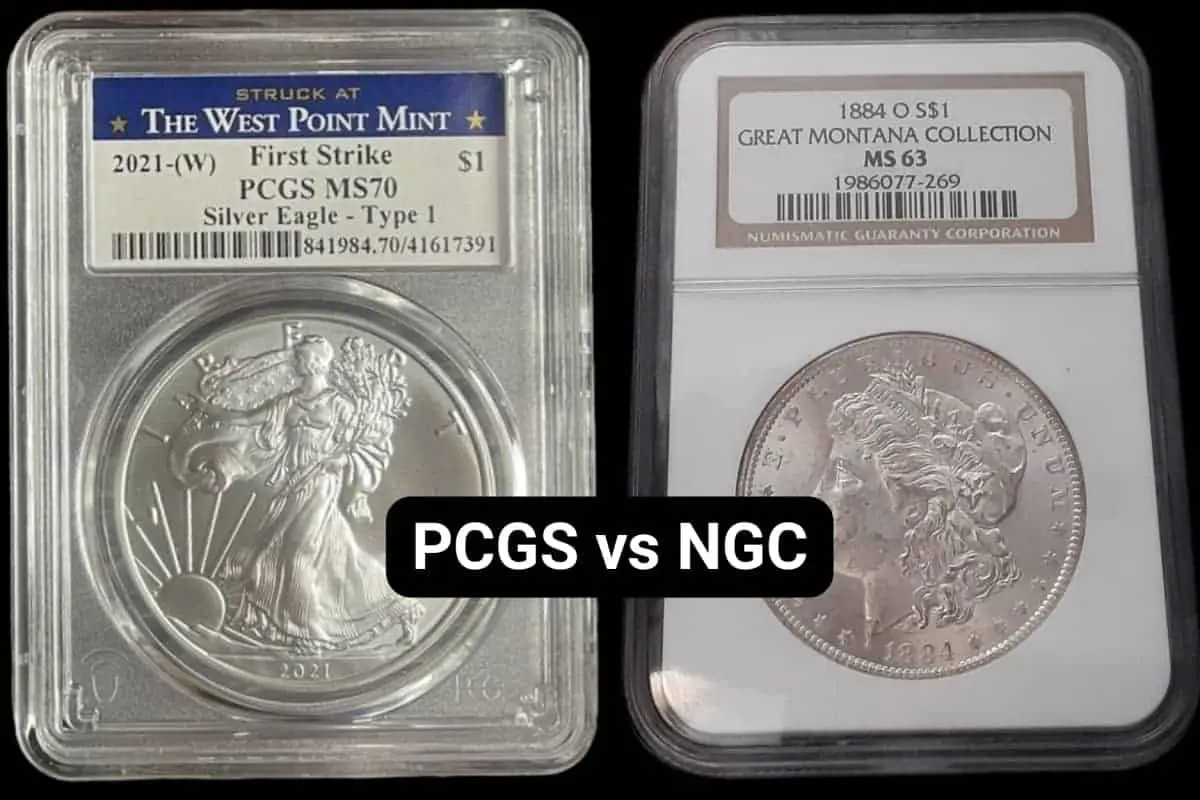 Numismatic Guaranty Company (NGC) and Professional Coin Grading Service (PCGS) are the most renowned third-party coin grading services, but which is better for grading coins?
Read our NGC vs PCGS showdown
PCGS-graded coins have higher resale values, and PCGS is considered the superior grading service overall.
However, many collectors trust NGC more when it comes to accurately grading foreign and ancient coins.
Why should you have your coins graded and slabbed?
You want a better numismatic value for your coins plus lasting protection.
Your coins are valuable enough to outweigh professional grading expenses.
Buying silver from the United States Mint
The US Mint is the country's only manufacturer of legal tender coins. Besides silver and gold bullion coins, the Mint creates uncirculated, proof, and commemorative coins.
Directly buying from the US Mint eliminates the risk of getting counterfeit silver coins. However, the US Mint silver is more expensive than silver from private mints, as the Mint has to craft coins according to very strict specifications.
What you can buy from the Mint:
Proof or collectible coins
Commemorative coins, including special Mint Proof Sets with silver coinage
What you can't buy from the Mint:
Silver and gold bullion coins
Only official distributors called Authorized Purchasers can purchase bullion coins directly from the Mint. These distributors then sell precious metal bullion coins to wholesalers who in turn sell to the public.
Buying silver from legitimate bullion dealers
Whether you want to buy silver bars wholesale or collect silver coins, the best way to purchase silver is through a well-established and trustworthy bullion dealer.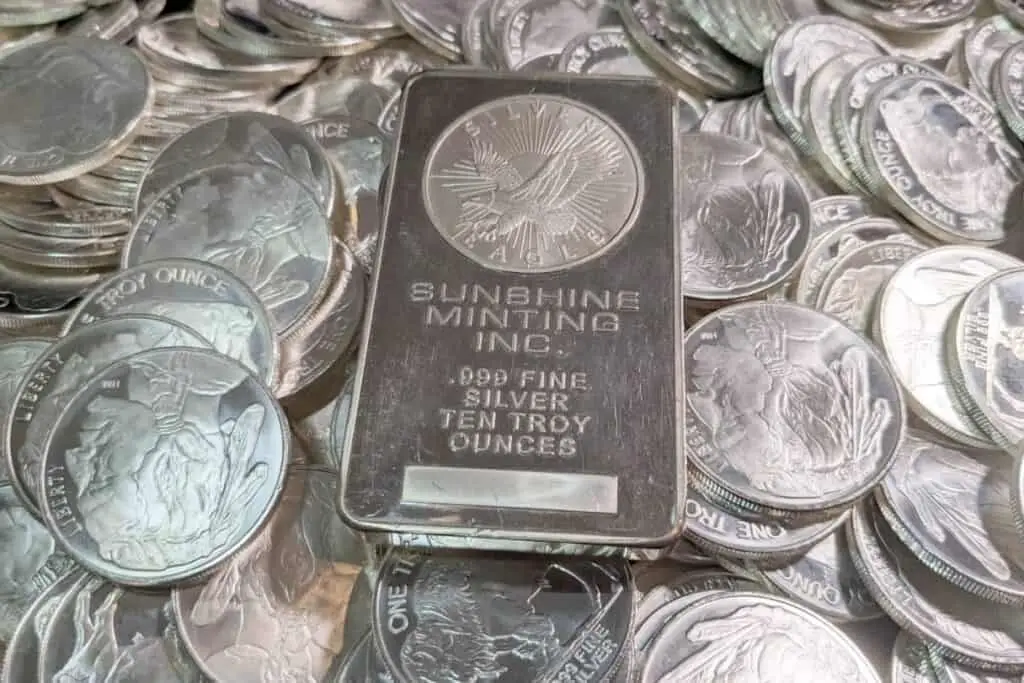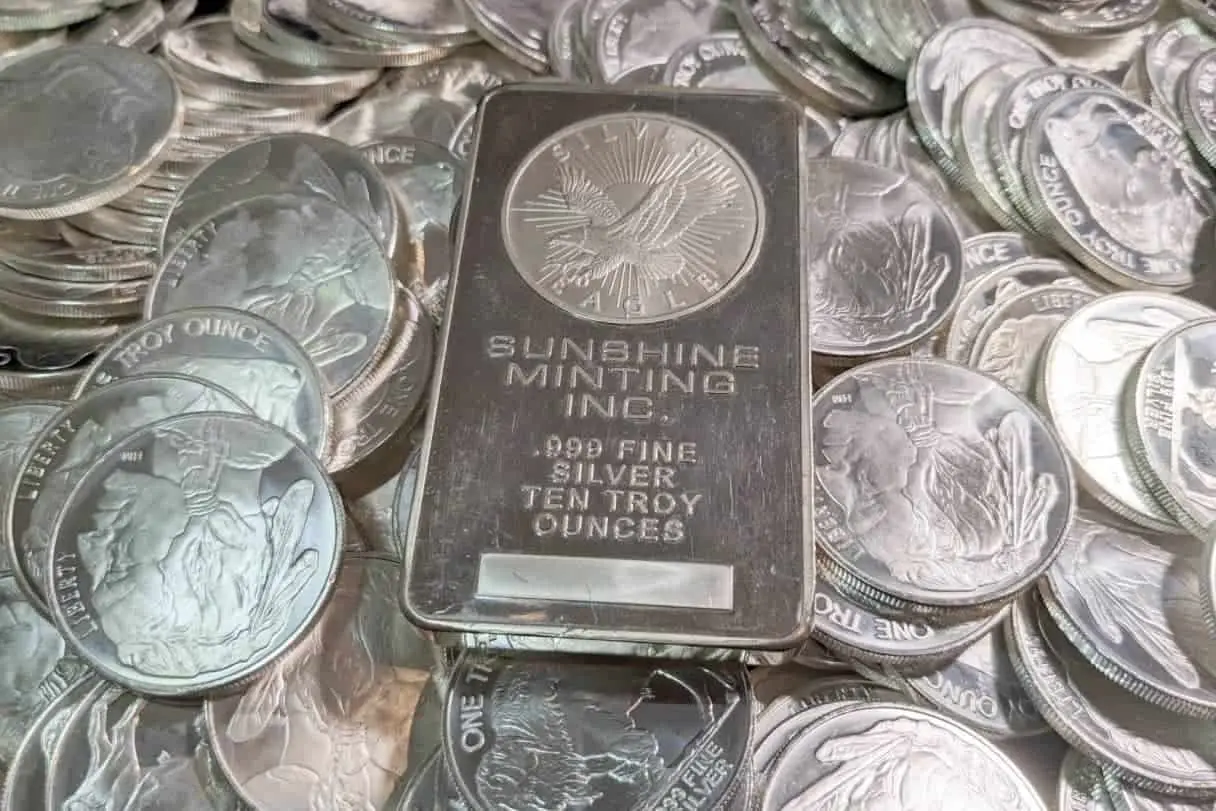 Visit a trusted local dealer
You can buy precious metals locally by visiting the physical location of your chosen silver bullion dealer or local coin shop. Ensure you take your silver with you immediately after paying for it.
Attend coin shows
Coin shows usually feature numismatic, graded coins and investment-grade bullion coins. Try to negotiate prices to get the best deals.
Buy from a reputable online dealer
If you want the best prices around, chances are you'll find them online mainly because of higher volume and lower overhead costs. Online retailers typically don't have to pay for brick-and-mortar costs, allowing them to sell at better premiums.
Whether you're buying locally or online, find out if your state requires you to pay sales tax when buying precious metals so you can plan ahead.
Here's our list of the top online silver bullion dealers for investors and collectors alike:
1. Silver Gold Bull
Founded in 2009, Silver Gold Bull features a vast selection of silver bullion at competitive prices.
Reviews: 4.8/5 stars out of 3,533 reviews on Trustpilot
2. Buy Gold and Silver Coins (BGASC)
Established in 2012, BGASC claims to be one of the biggest, fastest, and most dependable precious metals suppliers in the US.
Reviews: 4.8/5 stars out of 7,746 reviews on Trustpilot
3. GoldSilver, LLC
Operating since 2005, GoldSilver.com offers world-class bullion dealer services.
Reviews: 4.6 out of 1,248 reviews on Trustpilot
4. JM Bullion
Founded in 2011, JM Bullion boasts a vast array of silver bullion and other precious metals, with their average inventory carrying tens of millions of products.
Reviews: 4.3/5 stars out of 1,088 reviews on Trustpilot
5. SD Bullion
Founded in 2012, SD Bullion guarantees the lowest prices for silver bullion and other precious metals.
Reviews: 3.6/5 stars out of 2,198 reviews on Trustpilot
It's best to check different review sites, including social media groups and pages, to know the most recent experiences of buyers.
Select dealers with a buy-and-store program if you prefer to have your precious metals properly stored in a secure vault instead of taking the risk of storing them in your home.
How to choose a trustworthy silver bullion dealer
Follow these quick tips when picking silver bullion dealers:
Years in service: Check if the bullion dealer has been in business for a long time. The more established, the better.
Reputation and track record: Read recent reviews of bullion dealers on trusted review sites every time you shop.
Prices: Find competitive prices, but be wary of unbelievably low prices.
Customer service: You should be able to contact the dealer easily before and after placing an order.
Product selection: You want a bullion dealer that offers a wide selection of silver products for an easy shopping experience.
Delivery: A dependable online dealer provides delivery updates and ensures you get what you paid for on time.
You don't have to buy exclusively from one dealer through the years. You can purchase silver from different trusted dealers, especially if they have what others don't. For example, you could be looking for the best wholesale prices or a wider selection of collectible coins.
Where NOT to buy silver
Keep in mind to steer clear of these unreliable sources of physical silver to avoid getting swindled:
Classified listings: These usually involve shady meetups and unofficial transactions.
Online auction websites: Sites like eBay charge extra fees for listing items, leading to higher prices. More importantly, they don't verify that silver products for sale are authentic, and there's no guarantee for returns.
Pawn shops: It's best to avoid pawn shops, especially if you're a new collector without the necessary knowledge and experience to detect fake coins.
Final thoughts
Your best protection when collecting silver bullion or coins is equipping yourself with as much knowledge as possible before spending your hard-earned money.
Hopefully, our silver buying guide helped you learn what you need to make smart, well-informed decisions and get your money's worth.
Remember, avoid shady sellers! If the price is too good to be true, well it probably is.